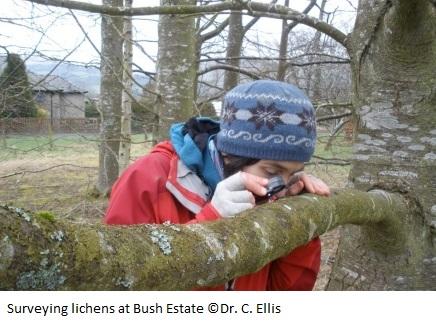 On 29/04/2015 and 14/05/2015 Frances Stoakley and Chris Ellis from Royal Botanic Gardens Edinburgh visited Auchencorth Moss as part of the Edinburgh Living Landscape Initiative.
There project is looking to develop and deliver engagement activities around air quality monitoring in Edinburgh using lichens, with the aim of empowering local communities by helping the public to make links between biodiversity, environmental health and human health.
They have been visiting AURN monitoring sites across Edinburgh, and have now as part of this project visited both Bush Cabins (CEH Edinburgh) and Auchencorth Moss (CEH Edinburgh).  These sites will now be included in their network as rural background sites. At each site they are looking at four trees, and are recording overall cover of lichens, bryophytes and algae as well as identifying all the epiphytic lichens found.  This data will then be compared to various air quality monitoring data (inc. NOx, NO2, and NO) to explore possible correlations and see if there are any lichen indicators found that are specific to Edinburgh.
At Bush Cabins they studied four southern beech (Northofagus sp.), probably planted in a former CEH experiment and at Auchencorth Moss, they studied a mixture of beech (Fagus sp.) and alder (Alnus sp.). Unsurprisingly, Auchencorth Moss proved very lichen rich with a large number of species that indicate a very clean atmosphere.  In particular lichens such as Bryoria fuscescens and Usnea species (see pictures).
More information on species compositions and data will be shared in the future, and an ongoing blog of their progress is available on their blog page: http://stories.rbge.org.uk/archives/14528 and http://stories.rbge.org.uk/archives/13945
Frances Stoakley is part of The Conservation Volunteers Natural Talent Traineeship initiative, in partnership with The Royal Botanic Garden Edinburgh.  The traineeship scheme is funded by the Esmée Fairbairn Foundation
Matt Jones